Safe Church Practices to Prevent Viral Spread
More News for 12 March 2020
Since the earlier update today, there is a further development. Since Bishop Sutton tied the opening and activities of our congregations to decisions about the Public Schools, Governor Hogan's announcement that schools would close statewide has resulted in the cancellation of all of our services and activities until at least 27 March 2020. Bishop Sutton has urged people to tune into a special webcast of our Presiding Bishop this Sunday at 11:00 AM from the National Cathedral, and to watch his broadcast of a local service from our own Cathedral of the Incarnation on 22 March. You can find links for those services and the Bishops most recent statement here: Churches to Close.
Fortunately, our Lent Programs are largely DIY so carry on with Lentmadness.org and with Jim Janknegt's Lent Meditations.
As for me, I'm going to start looking for a catacomb!
MG+
12 March 2020 Update:
Since the Bishop's first letter, there have been enough developments in the understanding of the spread of COVID-19 to warrant new considerations. As a result, he has issued a further statement — one which will affect more or less directly how we gather as a community for worship, education, and fellowship. His second statement may be found here: Bishops Second Statement
At this point we plan to continue to offer our regular schedule of worship: Sundays at 8:00 AM, 10:00 AM and Noon in the Church, and Tuesdays at 10:00 AM in the Parish Hall.
We will not be able to continue offering lunch on Tuesdays following the Lenten Program, but the conversation following the service on the Janknegt book, Lent Meditations, will continue. The Thursday Evening repeat of the Lenten Program is cancelled, but people who are reading through the text are welcome to call the Rector for individual conversations about particular paintings or meditations.
28 February 2020 Statement from the Bishop
Bishop Sutton has released a letter outlining some well-considered practices to minimize the threat to virus exposure. In point of fact, he is reiterating policies that have been long-established in the Diocese of Maryland, but which have become somewhat lax in local congregations. You may read his letter here: Bishop's Statement. 
In addition to his expectations, Emmanuel will institute two additional measures. First, we will no longer reuse Bulletins on Sundays between our three services. You are encouraged to take the bulletin home for further reflection, or to recycle them after the service in the bins provided. Second, we are asking the teams that count our weekly deposit to be sure to cleanse their hands before and after handling money. We pray that following these common-sense guidelines will keep Emmanuel and its congregation as healthy as possible.
Lent Programs
Our Lent Programs this year are designed to give you the chance to add some time for prayer, imagination, education, and meditation into your own schedules. Each also allows the chance for interaction with others who are on the same journey.
We have followed this wonderful, slightly off-kilter, Lenten competition for several years now, but this year's selected saints seem more interesting than in many previous years. Participating is simple: Beginning on Thursday, 27 March 2020, go to the Lent Madness website (you can click above) and read through the brief biographies of the saints listed for the day's voting. When you are done, vote for the one you think should go forward in the competition. Then tune in again the next day to see who won, and who is up in the next round.
On what basis should you vote? That's your choice! Did someone's story move you? Did they participate in a ministry that you have participated in? Do you think they have a cool name? Did you family come the same place a particular saint came from? Maybe you just feel like a little random act? Whatever you choose!
If you want some suggestions, scroll through the comments under each selection and see what people around the world are thinking about this lent, and about each saint. You are welcome to sign in and comment too — and let me reassure you that this is a very safe website.
Presiding Bishop Michael Curry thinks the final two will be the Apostle Jude, the Patron Saint of Lost Causes, and Harriet Tubman, the American Civil War hero and social reformer. Follow along daily and see if he is right!
Canon Gatza is mounting a campaign to vote for his favorite, St. Isidore of Seville, the 7th Century inventor of the database and now Patron Saint of Computers and the Internet. Here are his First Round picks.
Printed copies of the Saintly Scorecard are available from the Rector, if you'd like to have one.
Lent Meditations by Jim Janknegt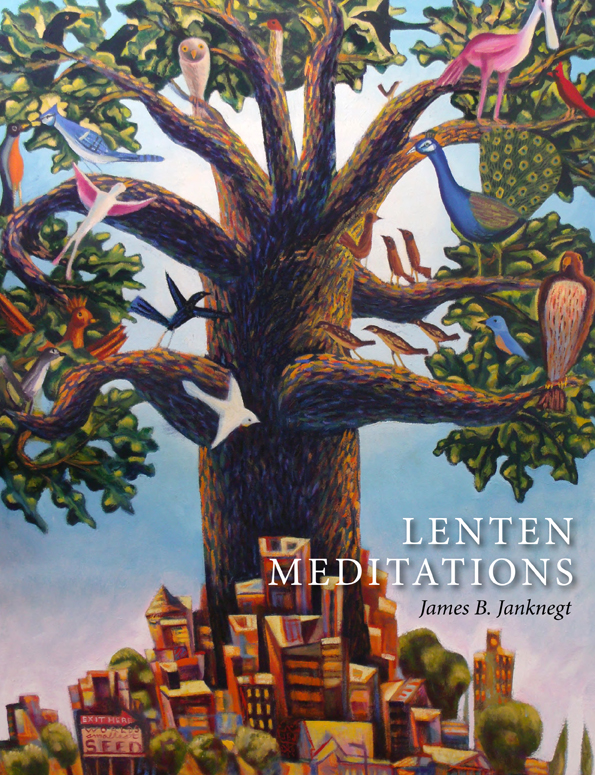 One of the Rector's favorite artists and a go-to for our bulletin cover illustrations, Jim Janknegt is also an inspiring writer of meditations. His book, above, includes a painting, a scripture passage, and a meditation for each of the days of Lent. Canon Gatza has copies available, or you may purchase one at the artist's website at https://bcartfarm.com.
Beginning Tuesday, 10 March 2020, following our 10:00 AM service, we will be taking some time to discuss each of the meditations to see what moved us, what got us thinking, and what new faith insights he has inspired. On Tuesdays, we will follow this with a light salad lunch and some time for fellowship
The same opportunity for conversation will also be offered on Thursday evening at 7:00 PM, beginning on 12 March 2020.
Sunday Worship During Lent
Our regular worship schedule will continue through Lent, with services on Sundays at 8:00 AM, 10:00 AM — including Sunday School — and 12:00 Noon. The prayers and hymns are chosen to reflect the season.
The Reverend Canon Dr. Mark Gatza,
Rector