Lent 2018
Ash Wednesday, 14 February 2018 – Services at 7:00 AM, 12 Noon, and 7:00 PM. You may also make an appointment for prayers and the individual imposition of ashes.
Tuesdays in Lent – Holy Communion & Prayers for Healing at 10:00 AM in the Maryan Room of the Parish Hall.
Wednesdays in Lent – Noonday prayers, Salad Lunch and Lent Program beginning at 12:00 Noon in the Maryan Room of the Parish Hall.
Saturdays in Lent – Repeat of the Lent Program at 11:00 AM
Holy Week
Palm Sunday: 25 March 2018 – Sunday Services at 8:00 AM, 10:00 AM and 12 Noon
Wednesday, 28 March 2018 – Tenebrae Service at 7:00 PM
Maundy Thursday: 29 March 2018, Service at 7:00PM
Good Friday: 30 March 2018
Stations of the Cross & Service at 12 Noon
Good Friday Service at 7:00 PM
Saturday: 31 March – the Great Vigil of Easter at 7:00 PM
Emmanuel's 150th Anniversary Celebration
Sunday, 18 March 2018 at 10:00 AM – Festal Service of Re-dedication of Emmanuel Church. The Rt. Rev'd Eugene Taylor Sutton, 14th Bishop of Maryland presiding and preaching. There will be one service only, followed by a Gala Reception in the Parish Hall: "Hat's Off to Emmanuel for 150 Years!"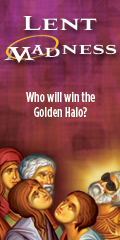 And be sure to follow Lent Madness! Go to lentmadness.org to read biographies of this year's saints and vote for your favorites!